CondorWorld Medlánky Cup › Results › Day 2 › 21.05.2011
Day 1 Day 2 Day 3 Day 4 Day 5 Day 6 Day 7 Overall Results
| | | | | | | | | | | |
| --- | --- | --- | --- | --- | --- | --- | --- | --- | --- | --- |
| # | | PILOT | CN | RN | PLANE | DISTANCE | TIME | SPEED | PEN | SCORE |
| 01 | | Dmitry Bednyak | DRD | DRDIMAN | LS4 | 197.42 km | 02:02:38 | 96.6 km/h | 0 | 1000 |
| 02 | | Sergey Kazancev | 071 | SPY | LS4 | 194.77 km | 02:06:11 | 92.6 km/h | 0 | 931 |
| 03 | | Helmut Kuenne | F9 | D-2318 | LS4 | 191.4 km | 02:05:07 | 91.8 km/h | 0 | 916 |
| 04 | | Janos Cservenak | HWK | FG-1983 | JantarStd3 | 214.14 km | 02:25:50 | 88.1 km/h | 0 | 913 |
| 05 | | Basil Fawlty | RCB | COCK-UP | ASW19 | 185.42 km | 02:07:11 | 87.5 km/h | 1 | 901 |
| 06 | | Erik Praznovsky | 3P | OM-ERYC | JantarStd3 | 175.98 km | 02:00:59 | 87.3 km/h | 0 | 898 |
| 07 | | Lars Zinnkann | LZN | D-1978 | ASW19 | 172.74 km | 01:57:56 | 86.4 km/h | 5 | 877 |
| 08 | | Andrzej Czop | CIA | SP-3043 | LS4 | 188.1 km | 02:06:13 | 89.4 km/h | 1 | 874 |
| 09 | | Jan Valasek | JAV | OK-MOLE | JantarStd3 | 184.14 km | 02:08:45 | 85.8 km/h | 1 | 871 |
| 10 | | Tomas Brotanek | TB | OK-0516 | ASW19 | 171.15 km | 02:01:23 | 84.6 km/h | 0 | 850 |
| 11 | | Valentin Tornavi | 574 | RA-SLY | LS4 | 182.44 km | 02:04:41 | 87.8 km/h | 0 | 847 |
| 12 | | Robin Forster | DML | D-2043 | ASW15 | 174.65 km | 02:07:17 | 82.3 km/h | 7 | 847 |
| 13 | | Radek Mica | RM | OK-5417 | ASW19 | 189.47 km | 02:15:36 | 83.8 km/h | 0 | 836 |
| 14 | | Peter Suchan | PSU | SK-1981 | JantarStd3 | 199.35 km | 02:23:50 | 83.2 km/h | 0 | 824 |
| 15 | | V Vlovs | VL8 | RU-VL8 | LS4 | 183.44 km | 02:07:21 | 86.4 km/h | 0 | 823 |
| 16 | | Henryk Piekos | HPO | SP-3468 | JantarStd3 | 187.79 km | 02:15:09 | 83.4 km/h | 12 | 815 |
| 17 | | Jiri Nemecek | D32 | OK6432 | ASW19 | 190.82 km | 02:18:38 | 82.6 km/h | 0 | 813 |
| 18 | | Frantisek Brablc | BUM | OK-3636 | LS4 | 175.67 km | 02:02:57 | 85.7 km/h | 0 | 811 |
| 19 | | P Geza | GP9 | HA-PG | JantarStd3 | 176.24 km | 02:08:22 | 82.4 km/h | 0 | 810 |
| 20 | | Daniel Galuszka | 3Y | SP-3049 | JantarStd3 | 182.35 km | 02:13:33 | 81.9 km/h | 0 | 801 |
| 21 | | Dmitriy Balykin | BAD | CHARON | JantarStd3 | 175.72 km | 02:09:17 | 81.6 km/h | 0 | 795 |
| 22 | | Antonin Fischer | AFI | OK-1103 | LS4 | 168.43 km | 01:58:34 | 84.2 km/h | 1 | 784 |
| 23 | | Dusan Masaryk | DWA | OM-RED | JantarStd3 | 167.92 km | 02:04:23 | 81 km/h | 4 | 781 |
| 24 | | Milos Koch | MK | OK-1823 | ASW19 | 172.52 km | 02:08:48 | 80.4 km/h | 0 | 773 |
| 25 | | Sergio Solfa | 1 | LV-SDS | ASW19 | 159.94 km | 01:53:12 | 80 km/h | 0 | 766 |
| 26 | | Jiri Holub | JHO | OK-4408 | ASW19 | 174.74 km | 02:12:12 | 79.3 km/h | 0 | 754 |
| 27 | | Aleksey Chernov | AV7 | AIRMAN | LS4 | 182.74 km | 02:13:08 | 82.4 km/h | 0 | 752 |
| 28 | | Antal Szucs | SIR | SIRALY | JantarStd3 | 192.75 km | 02:26:36 | 78.9 km/h | 0 | 746 |
| 29 | | Jozef Dubaj | D82 | OM-8732 | JantarStd3 | 185.88 km | 02:22:27 | 78.3 km/h | 0 | 736 |
| 30 | | Michal Szalek | 4MS | SP-7470 | JantarStd3 | 184 km | 02:20:44 | 78.4 km/h | 4 | 734 |
| 31 | | Marcin Martyna | MRM | SP-3423 | JantarStd3 | 185.97 km | 02:26:14 | 76.3 km/h | 0 | 700 |
| 32 | | Lubos Faitz | LFM | OK-4812 | ASW19 | 173.37 km | 02:16:26 | 76.2 km/h | 0 | 699 |
| 33 | | Jaroslav Pincek | H7 | PINDAS | ASW19 | 183.66 km | 02:25:10 | 75.9 km/h | 0 | 693 |
| 34 | | Rafal Szczypka | RSA | SP-0037 | JantarStd3 | 157.25 km | 02:04:43 | 75.7 km/h | 7 | 681 |
| 35 | | Norbert Kiss | CN | HA-1974 | JantarStd3 | 165.73 km | 02:12:49 | 74.9 km/h | 0 | 674 |
| 36 | | Jiri Adam | ADX | OK-0024 | JantarStd3 | 164.12 km | 02:11:36 | 74.8 km/h | 0 | 673 |
| 37 | | Vladimir Sohr | XX | OK-ALF | JantarStd3 | 176.39 km | 02:21:55 | 74.6 km/h | 3 | 665 |
| 38 | | Wlodzimierz Kowalski | DB9 | SP-2964 | JantarStd3 | 154.36 km | 02:07:04 | 72.9 km/h | 1 | 637 |
| 39 | | Jan Podolan | A22 | ANDEL | JantarStd3 | 170.35 km | 02:22:41 | 71.6 km/h | 0 | 615 |
| 40 | | Rudolf Kalousek | R1K | OK-7777 | Libelle | 171.68 km | 02:32:04 | 67.7 km/h | 0 | 582 |
| 41 | | Dmitry Andreyev | D2A | - | ASW15 | 149.51 km | 02:15:45 | 66.1 km/h | 1 | 550 |
| 42 | | Zbyszek Tkocz | ZBY | ZBYCH | JantarStd3 | 151.54 km | 02:15:05 | 67.3 km/h | 0 | 537 |
| 43 | | Piotr Raczynski | PIT | SP-2901 | JantarStd3 | 185.38 km | | | 0 | 381 |
| 44 | | Horst Jahnke | DHJ | D-2056 | ASW19 | 133.9 km | | | 0 | 275 |
| 45 | | Marian Taros | MAT | OM-1958 | JantarStd3 | 136.73 km | | | 15 | 266 |
| 46 | | Sandor Laurinyecz | LS | HA-4483 | JantarStd3 | 126.31 km | | | 0 | 260 |
| 47 | | Miroslav Ladnak | MIL | OM-ORLE | JantarStd3 | 95.65 km | | | 0 | 197 |
| 48 | | Vaclav Korinek | VK | OK-3806 | ASW15 | 42.5 km | | | 0 | 90 |
| 49 | | Vratislav Danek | VRA | OK-7280 | JantarStd3 | 39.86 km | | | 0 | 82 |
| 50 | | Tomasz Siejek | GD5 | SP-0055 | JantarStd3 | 106.8 km | | | 13 | 0 |

Download IGC files (all pilots in one ZIP file) | Detailed results (mCR, mIAS, nLift, Detour%...)
Briefing › Day 2 › 21.05.2011 › 20:00 CEST › sobota/saturday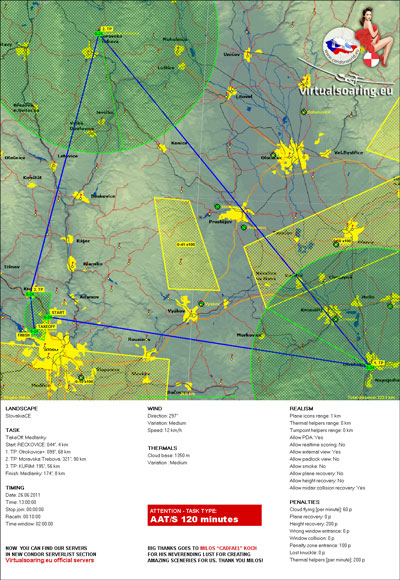 Server:CondorWorld Medlanky Cup
Password:
Date:21.05.2011
Time:20:00 CEST (18:00 UTC)
Join time:30 min.
---
Landscape:SlovakiaCE 6.0
Plane class:Club Class (IGC index used)
Task type:AAT/S minimum 120 min.
Race-in time:10 min.
Time window:120 min.
Start time:13:00:00
Condor date:26.06.2011
Start alt:max. 2400 m QNH
---
TakeOff:Medlanky
Start:RECKOVICE
1. TP:Otrokovice+ (25 km radius)
2. TP:Mor. Trebova (25 km radius)
3. TP:KURIM
Finish:Medlanky
Distance:222 km (min 132/max 316 km)
---
Cloudflying not allowed! Circeling in the direction of climb is determined by the first glider in thermal. If you have doubts about the circeling direction, ask in the chat. Attention: a lot of penalty zones (CTR/TMA) are active, please watch your PDA all the time! Please fly safe, good luck to all pilots.
---

Download Flightplan (FPL file)