CondorWorld Medlánky Cup › Virtual Soaring Competition - Club Class
You are not logged in, please LOG IN or REGISTER for access to briefings etc.
LATEST NEWS

Take your REWARD! | You can check now: Overall Results Final | Official Results Day 7

Contest is finished, last racing day of CondorWorld Medlánky Cup is over. And here are the winners:
• 1st place for ERIK PRAZNOVSKÝ (3P/JantarStd3/Slovak republic) with 6760 points
• 2nd place for HELMUT KUENNE (F9/LS4/Germany) with 6631 points
• 3rd place for JANOS CSERVENAK (HWK/JantarStd3/Hungary) with 6490 points

All participants of the competition who fulfill the conditions of competition sponsor, can pick up well-deserved REWARD - HD textures for ONE scenery by own choice from www.condorworld.eu and digital diploma for participation.

Thanks goes to all pilots for joining us here in the sky over Brno and special thanks to Radek (RM) for hosting servers and tasksetting. Big thanks goes to Miloš "Cadfael" Koch (MK) for preparing for us such a great sceneries as SlovakiaCE and for his sponsor gift - HD textures.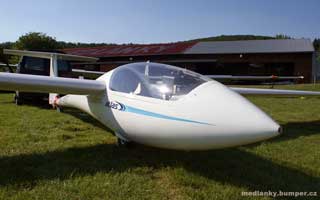 And here we have another virtual soaring contest. This time we will fly from/to Medlánky and Brno. Town where live a really cool man - Miloš "Cadfael" Koch - author of many beautiful sceneries for Condor. This competition as an expression of our gratitude and appreciation of his work for us will have in title a name of Miloš "company" for sceneries - CondorWorld.
Back to contest: it's small competition with seven racing days, Club Class with IGC index used, Racing tasks and AAT/S from 150 to 300 km, scenery SlovakiaCE 6.0. Competition home airport - Medlánky - nice photogallery of real Medlánky airport we have from Bumper. We offer you also his Virtual Medlánky skins for download. More informations about this competition - as usual - in rules.
Miloš, once again BIG THANKS for your work! Virtualsoaring.eu team, Erik (3P)
This competition is continued line of successful competitions like Liptov Shepherd GP, Praděd GP Gliding, Raven Competition, Kiwi Race and OCC. Please - give your attention to rules! Will be need registration, server password will be published in briefing. After each race you must send IGC file.
• Racing days: Saturdays from May 14, 2011 till June 25, 2011
• Server/start time: CondorWorld Medlanky Cup at 20:00 CEST (18:00 UTC)
• Scenery: beautiful SlovakiaCE 6.0, author: Miloš "Cadfael" Koch
• Tasks: from 170 to 300 km, PDA allowed, some AATs, cloudflying not allowed

Condor › The Competition Soaring Simulator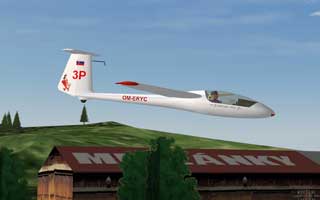 Condor: The Competition Soaring Simulator is designed to recreate the ultimate experience of competition soaring on your PC. A lot of attention was put in to create an environment which would create an immersion of real competition flying. This means that the aerodynamics and weather physics were in focus of the development. The result is amazingly real feel of flight in all flight regimes and weather conditions which challenges a real soaring pilot on a competition day.
Amazing feel of flight due to the advanced flight dynamics model: Advanced 6DOF flight model for complete freedom of flying / Accurate sailplane performance and handling – also at and beyond critical angles of attack / Sailplane damage simulation – flutter, high G stress, collisions / High time fidelity physics engine (up to 500 cycles per second) / Accurate ground forces for realistic takeoffs, landings and crashes / Detailed, sub-object collision detection for mid air and ground object collisions / Accurate conditions for a realistic towing and winch start.
More informations about this simulator you can get at www.condorsoaring.com. Some videos from this soaring simulator also here.